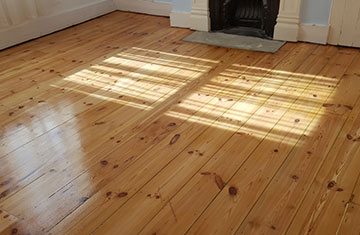 Are you in need of a floorboards replacement service? Does your favourite wooden floor look and feel too damaged, too distressed, in need of a professional in-depth repair service to improve the condition and appearance? Well, a floorboards replacement service can do the magic for you and bring back the floor to its initial glory, beauty, durability. In fact, floorboards replacement is neither a time-consuming service, neither an expensive or too complex one.
Sometimes no matter how much you love and enjoy your floor and how much you look after it, it will soon or later need more in-depth care, maintenance, even repair and renovation. There are many factors that can affect the condition of the floor, weaken its durability and sturdiness, cause some issues requiring a floorboards replacement. In fact, think of floorboards replacement as the least worse thing that can happen to your floor. At the end of the day, floorboards replacement is a spot service and does not require the repair or even replacement of the whole floor.
What is Floorboards Replacement?
There is no much to explain here, floorboards replacement is a pretty straightforward service as you can guess by the name. The floorboards replacement service consists of replacing some of the floorboards that are too damaged and distressed and affect the overall condition, durability, and stability of the floor. It is important to have the floorboards replacement service performed and delivered by experienced and knowledgeable professionals. In fact, floorboards replacement is certainly not rocket science and still it requires a level of experience, expertise, and specific skills.
Looking for a professional floorboards replacement company in London? Do not hesitate to call us on 020 88309782. Alternatively, you can ">book free visit and we will arrange a free inspection of your floor as soon as possible.
A floorboards replacement expert will first inspect the condition of the floor and determine which of the floorboards are in need of replacement. Some of the floorboards may not appear visually damaged and distressed, however, they may be in need of repair and renovation. In other cases, you may think that your floor is in need of a floorboards replacement service, but it turns out that sanding and refinishing services are just enough to improve the look and condition. Therefore, the assessment of a floorboards replacement specialist is crucial and will determine the success of the service and final results. Furthermore, a floorboards replacement specialist will know the exact method of the floor's installation and how to proceed with replacing the boards properly.
Why Floorboards Replacement?
You may be tempted to neglect the issue, skip the floorboards replacement service and don't invest your money. However, this is not necessarily the best thing you can do. A floorboards replacement is important, because it will not only improve the overall look of the floor by having new floorboards substitute the damaged, distressed, scratched, and stained ones. Furthermore, floorboards replacement is essential for improving the condition of the floor. Even one damaged floorboard can significantly affect the stability, sturdiness, and durability of the whole flooring construction. Therefore, floorboards replacement is required for ensuring a lasting and hard-wearing floor and preventing or minimizing the risk of more serious problems in the future.
How You End Up in Need of a Floorboards Replacement?
A floorboards replacement service may be required for many reasons, which means that floorboards may get damaged and distressed affected by many factors. Wood is a natural material and even when cutting into floorboards it still has a natural reaction and response to its environment. Changes in the floor's environment such as higher moisture and humidity levels, temperature fluctuations, moisture damage can cause some serious issues with the floor and damage some of the floorboards or the entire floor. In addition, factors such as high traffic, heavy footfall, and high level of everyday use can wear off some of the floorboards too much, especially in the busier areas of the house. In addition, even the highest quality floors are not absolutely stress-proof, despite the fact they can be very durable and hard-wearing. All these factors can affect the condition of the floor and lead to highly damaged floorboards. In such cases, a floorboards replacement is required.
Why Choose Professional Floorboards Replacement?
A floorboards replacement project requires some knowledge, expertise, skills, and even craftsmanship. Despite the fact it is not the most complex and difficult professional wood floor service, floorboards replacement remains a bit challenging. Just imagine the skills needed for lifting the damaged floorboards without damaging the rest of the floor. It doesn't sound that easy, right? In addition, only a professional floorboards replacement company will be able to offer and supply new floorboards and floor materials that match perfectly the way your floor looks, its colour, its texture.
Well, a floorboards replacement service is followed by wood floor sanding and refinishing, but if the boards are not an exact or close match, even refinishing will not ensure a uniform, sleek, and even look for the floor. In addition, it is not enough to just choose floorboards made out of the same wood species and with the same grade as the existing floor, because you are not considering the wear and other factors that affect the appearance of the floor with time. A professional floorboards replacement team will make sure to replace the floorboards with the exact or almost identical match and achieve a floor's surface that looks uniform, beautiful, elegant.
Floorboards Replacement – Essential Tools and Equipment
Unlike sanding, floorboards replacement does not require a wide variety of professional machines and specific tools. However, a floorboards replacement service also needs some necessary supplies, including:
Hammer
Nails
Circular saw
Pry bar
Wooden blocks
Measuring tools
Chisel
Book free visit for floorboards replacement in London today. Or give us a call on 020 88309782 to learn more about our floorboards replacement services.
Did you know…
For the needs of a floorboards replacement service you may need reclaimed wood floorboards. Since not considering the right material, wood species, grade, colour, and texture of the new floorboards when planning a floorboards replacement project may end up with a mismatched floor like a patchwork, you need to plan ahead, before the floorboards replacement project starts. Considering the fact that most of the floors in need of a floorboards replacement service are definitely not new and recently installed, you should also consider the fact that everyday use, sun exposure, and other similar factors affect the way your floor looks with time. Therefore, a floorboards replacement factor can benefit a lot from reclaimed wood. Reclaimed wood is another way to describe second-hand wood materials, usually sourced from old farms, etc. It is an eco-friendly option, but it is also a great opportunity for your floorboards replacement project, because you are getting floorboards that have already experienced some level of wear and use. Therefore, think of reclaimed wood as an opportunity for your floorboards replacement project.