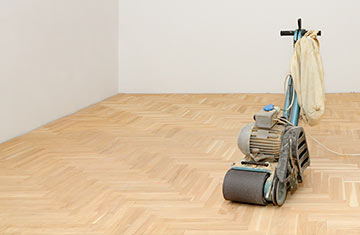 School floor sanding is a popular professional service, part of the in-depth maintenance for real wood flooring. School floor sanding is the essential care for wood floors installed in commercial settings. School floor sanding is ensuring the durability and sturdiness of wooden flooring that is subject to a very high level of everyday use, high traffic, heavy footfall. In addition, school floor sanding is important to ensure the safety and comfort of those using the floor, which is extremely essential when it comes to schools and facilities for young children and adults.
The main concern when it comes to a commercial floor maintenance service, school floor sanding included, is not only improving the condition of the floor itself and making it appear brand-new and beautiful, but also ensuring that this floor, installed in a setting of very high traffic and a high level of use, is safe, non-slippery, convenient, easy to keep clean and well-maintained.
Why School Floor Sanding Is Important?
Every wood floor sanding service is important in the context of improving the condition and appearance of the wooden floor. However, when it comes to sanding projects in commercial premises and facilities, including school floor sanding, there are many other factors and aspects that must be taken into account and considered. Every commercial facility should comply with a number of rules, which make sure this facility is safe and comfortable to be used by a big number of people on a daily basis. Flooring being one of the most important elements of the interior of commercial facilities, also should comply with such rules and restrictions. In this sense, school floor sanding is not simply beneficial, but an essential and required service.
We provide you with a high-quality school floor sanding service in London with minimal disruption and stress. Make sure to call us on 020 88309782 today to book free visit and get a free quote!
School floor sanding is important, because it improves the condition of the floors and by this it ensures a decreased risk of possible issues and problems. When school floor sanding service is delivered, it is made sure that the floor is in a condition that can ensure comfort, stability, sturdiness. In addition, school floor sanding takes care of the maintenance and cleaning factor for the floors. When the old layer of worn finish is removed by school floor sanding specialists and the floor is treated with a uniform and even coverage of fresh layers of finish, it is created a sturdy, long-lasting, and hard-wearing surface that is less prone to possible issues. School floor sanding and refinishing also ensure a non-slippery surface. Finally, school floor sanding ensures the floor will be significantly easier to maintain hygienic and keep extra clean.
Why Professional School Floor Sanding?
There is no doubt that every sanding service, a school floor sanding included, should be left in the experienced and reliable hands of school floor sanding professionals. Only school floor sanding professionals are trained in the most advanced and modern school floor sanding techniques and methods that ensure the right approach to every wooden floor and minimal disruption, stress, and mess. A professional school floor sanding team has all the skills, knowledge, and expertise required for delivering perfect final results and making sure the condition of the floor meets all requirements and standards.
How a Professional School Floor Sanding Makes a Difference
Besides the essential aspect of getting a professional school floor sanding service because this is the only way to enjoy perfect results and the safety and security of a well-maintained, well-treated floor that meets the highest standards, school floor sanding services, when delivered by professionals, also come with additional benefits. When a school floor sanding project is left in the hands of experienced, dedicated, and hard-working experts, you won't have to worry about any mess, hassle, or stress during and after the service. A professional team of school floor sanding specialists will first check the condition of the floor and give their recommendations if some additional repairs should be done first or if the floor is beyond repair and sanding is unnecessary.
By doing so, a professional team of school floor sanding specialists will save you a lot of time, energy, and money you would otherwise waste with an inexperienced contractor of a school floor sanding service. Additionally, a professional school floor sanding team provides you with the comfort and flexibility to decide on your own working schedule for the project. School floor sanding can be delivered during the night, on the weekends, or in hours, when school is not operating and during the holidays. Only a professional team of school floor sanding experts will work with a timely manner, but never compromise with the quality of the service and provide a stress-free experience with minimal disruption to the working and learning process.
Benefits of School Floor Sanding
Since sanding is the process of removing the old finish on top of wooden floors along with all imperfections and the aged, distressed, and dull look, you can guess that school floor sanding comes with a number of benefits for the floor too. School floor sanding is designed to take care of heavily used and high traffic real wood floors. School floor sanding improves the appearance of real wood floors by removing all imperfections. However, school floor sanding is even more important, because by removing all imperfections, school floor sanding ensures they won't grow bigger, more serious, and potentially turn into major issues. School floor sanding ensures all the additional protection, durability, hard-wearing, and long-lasting power a high-traffic wooden floor may be in need of.
Book free visit for school floor sanding services in London today. Or give us a call on 020 88309782 to learn more about our school floor sanding services.
Did you know…
Real wood floors that have been treated by a professional school floor sanding team are more hygienic and easier to maintain and keep clean in long-term. This is especially important for floors in schools and educational establishments, where there are a lot of people and the majority of them are children or young adults. School floor sanding, by removing the old finish and imperfections on the surface, ensures there are no gaps and dents where dirt, bacteria, germs, and allergens can hide, so the potential risks of health issues is significantly decreased. In addition, school floor sanding ensures a smooth, even, and uniform floor's surface that is protected by a hard-wearing finish and requires just a simple and timely cleaning routine.