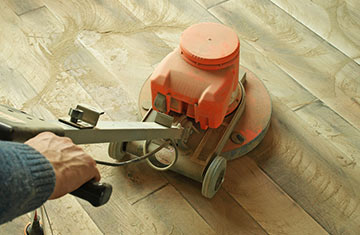 Hardwood floor sanding is an essential service, part of the in-depth routine for hardwood floors. It comes with a number of benefits we will discuss in this article. Hardwood floor sanding has the potential and power to bring every hardwood floor back to its initial beauty and days of glory. Since real wood floors are prone to experience some issues and wear and tear in time, depending on the level of traffic, everyday use, and other factors, hardwood floor sanding is designed to battle down such issues and ensure the floor is in perfect condition to last for decades.
What Is Hardwood Floor Sanding?
Hardwood floor sanding is one of the most basic and fundamental professional maintenance services for real wood floors. Hardwood floor sanding has a pretty simple concept. One of the main reasons why people are sold on real wood floors, when making this important decision for their homes or office and commercial premises is the fact that real wood floors can be treated with a hardwood floor sanding service not just once, but a few times in their lifespan. What hardwood floor sanding does is simply removing the top layer of hardwood flooring. This top layer usually included the worn finish with a weakened protective power, sometimes also a thin layer of bare wood underneath. By this, hardwood floor sanding is removing all imperfections and issues on the surface of the floor, ensuring lasting protection and preservation of wood's natural colour and texture, helping the floor to be durable enough to last for decades.
Let's discuss your hardwood floor sanding plans and considerations. Call today on 020 88309782 or leave us a message via our contact form and arrange a free inspection of the floor and book free visit whenever it is convenient for you.
Hardwood Floor Sanding for a Beautiful Floor
Hardwood floor sanding is essential for improving the appearance of every hardwood floor. Hardwood floor sanding removes all imperfections on the surface of the floor that affect its natural beauty and elegance. Due to everyday use and a majority of other factors, hardwood floors get scratched and stained, struggle with marks, dents, gaps. In addition, the wood floor finish, no matter how high-quality and expensive one you choose, has its expiry date, depending on how much of wear and use the floor gets. This pretty much means that with time and due to everyday use, the floor will start getting dirtier, duller, look tired and aged. Hardwood floor sanding helps a lot in such cases. Hardwood floor sanding removed the dirty and worn finish from the surface of the floor, allowing the bare wood underneath uncover its full potential and beauty.
Hardwood Floor Sanding for Strong Floor
The reason why hardwood floor sanding is even more important than just making your floor appear newer, fresher, and more beautiful is the fact hardwood floor sanding improves the overall condition of the floor. While small imperfections affect the way the floor looks, they should be removed because of even more important reason. When left neglected and untreated, small surface issues can grow bigger with time and put the floor on the risk of major problems. Sometimes such problems can be beyond repair, other times requiring expensive repair and renovation services. This is why hardwood flooring will save you not only money and stress, but also ensure you can enjoy your beautiful wooden floor for many decades. Hardwood floor sanding minimizes the risk of major issues. Hardwood floor sanding ensures your floor is durable, long-lasting, and hard-wearing by removing all imperfections on the surface of the floor and preventing the risk of you dealing with something more serious and major.
Hardwood Floor Sanding and Refinishing
Hardwood floor sanding is simply essential before every refinishing and staining service. Hardwood floor sanding not only removes the top finish layer of the floor, but hardwood floor sanding also prepares the floor for the application of finishing and staining products. Wood has a naturally porous structure and hardwood floor sanding opens the pores of the wood. By doing so, hardwood floor sanding guarantees an even and uniform coverage of the finishing and staining products. Since the pigments of a wood floor stain will highlight any imperfection on the surface of the floor, hardwood floor sanding is important for getting rid of these imperfections. Once the pores of wood are opened thanks to hardwood floor sanding, all products effectively soak into the wood's structure and ensure protection from within, not just on the surface of the floor.
Why Choose Professional Hardwood Floor Sanding?
DIY hardwood floor sanding is something recommended by some people, a suggestion that attracts with the idea of saving money you would otherwise spend on hiring a professional hardwood floor sanding service. However, most of these sources do not discuss all the potential risks of a DIY hardwood floor sanding project. In fact, DIY projects can easily and quickly turn into a nightmare, especially if you don't have any previous experience with hardwood floor sanding. In order to be able to provide a topnotch quality hardwood floor sanding service, hardwood floor sanding professionals are trained in the most advanced professional techniques and methods of hardwood floor sanding. Hardwood floor sanding is a treatment that requires a lot of knowledge, skills, experience, craftsmanship, and attention to details only a professional hardwood floor sanding team can offer.
Book free visit for hardwood floor sanding services in London today. Or give us a call on 020 88309782 to learn more about our hardwood floor sanding services.
Did you know…
Hardwood floorboards are cut from an entire timber piece. It means that hardwood floor sanding can happen up to six times in the lifespan of a hardwood floor. However, hardwood floor sanding and how often it can be performed depends on the thickness of the floorboards, their age, overall condition. Since hardwood floor sanding takes a very fine layer of bare wood under the finish every time, hardwood floor sanding should not be performed for over-sanded and aged floors, because then hardwood floor sanding can damage the floorboards significantly.